Veterinarians
Dr. Dennis Huebner

DVM / Practice Owner & Operator
Dr. Dennis Huebner, affectionately known as "Doc", first began working at Brazoria Veterinary Clinic during high school when he shadowed former owner, Dr. Keith Thompson.
Dr. Huebner is a native Texas who was raised in West Columbia and attended Columbia High School. He set a goal to become a veterinarian in junior high, and worked to earn that degree by first receiving both his undergraduate and master's degrees from Texas A&M. After graduating from Texas A&M College of Veterinary Medicine in 1986, he worked as an associate for 2 years in Keller and 8 years in Columbus, TX. He returned to Brazoria and became co-owner of Brazoria Veterinary Clinic in 2000.
Both Brazoria and Columbia Veterinary Clinics are now under the ownership of Dr. Huebner. He has continued to expand the business and enjoys working and serving the animals and owners in these small and friendly towns.
Dr. Kahla Peltier

DVM
Staff
Linda Huebner

Office Manager/Bookkeeper
Linda joined Brazoria Vet Clinic in 2013 after the last of her 4 boys graduated from Columbia High School. She serves the Brazoria and Columbia Vet Clinics behind the scenes as the accounts' payable bookkeeper. Although she finds it challenging, Linda is always happy to step in and help the receptionist or technicians whenever the need arises.
Linda serves the community through her involvement as a trustee for the Columbia-Brazoria Independent School District. In her spare time, she enjoys embroidery and sewing. She serves at her church through the Women's Missions program which helps those in need. She loves to travel, and in fall of 2019 she discovered a love for international travel when visiting Israel, France and Lesotho, a small country in southern Africa.
At home Linda enjoys her dog, Carson and watching Carson perform Border Collie wrangling tricks and snake catching skills. Her first experience assisting Dr. Huebner was in 1986 when he removed a fishing hook from a dog's tongue. She now enjoys warming up and saving new puppies after a c-section.
Sarah Newby

Receptionist
Sarah is an invaluable asset to Brazoria Veterinary Clinic and has been with us for 30 years. She loves the growing relationships she has developed with clients and their pets. Our clients know and love Sarah for her helpfulness and compassion.
Her most memorable experiences are foal deliveries which she has been frequently called on to assist over the years. Although she is the lead receptionist and spends most of her time at that job, she is often called to step in and assist using her technician skills.
Sarah shares her home with 4 animals: Sage, Whiskey, Twilight, and Grey. She also serves her two daughters as "biggest fan" and "loudest cheerleader" in their life endeavors.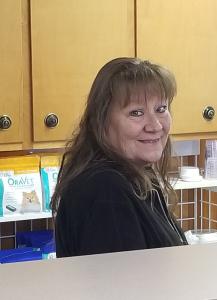 Lula Langford

Lead Receptionist
Lula has been with Brazoria Veterinary Clinic as a receptionist since 2007. Her favorite part of being in the veterinary field is playing with the animals and assisting our caring pet owners.
In her free time, Lula loves to travel and has been as far as England, Scotland, Holland, and Jamaica. She also loves photography, crocheting and reading. She enjoys spending time with her family; especially her 4 grandchildren.
Lula shares her home with a feisty Chihuahua named Khloe and a cockatiel named Michael. Her plans are to continue this journey with BVC and to continue to grow and learn something new every day.
Jessica Garcia

Receptionist
Originally hailing from the Philippines, Jessica has firmly established herself as a true Texan. She enjoys spending her free time relaxing with her husband, three children and two dogs. Otherwise you can find her covered in flour and baking her heart out!
One of her favorite experiences working at BVC is when Christmas the 41lb turkey came to have a skin condition assessed! Jessica remembers him to be very calm and sweet. Another client asked if his owners planned on eating him to which they replied that they "thought about it, but he's just got SO MUCH personality".
Jessica has found a sense of community at BVC with both clients and "such a caring staff". She can frequently be found hard at work at our West Columbia clinic assisting clients and learning the "ins and outs" of the business. Jesica is also looking forward to completing her veterinary technician certification through Penn Foster.
Tonya Thompson

Receptionist
Ronda Murray

Lead Technician
Ronda has over 16 years of experience in the veterinary field as a technician and office manager. She joined BVC in 2018 and serves as our lead technician.
Coming to BVC from a small animal practice, she says she has really learned a lot and enjoys working with some of our larger clients (cattle, horses, and pigs). She is looking forward to more of those large animal experiences.
Ronda has two dogs, Bobo and Rousey. She and her two daughters love spending time together and with Bobo and Rousey.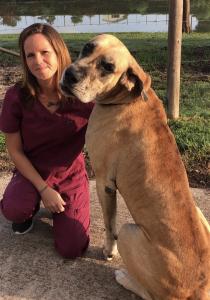 Susan Goodrum

Receptionist / Kennel Technician
Susan has been with BVC since 2019 and enjoys working with the many different animals. She says she loves everything about her job.
On top of having 5 human children, she also has Max the Chihuahua, and 2 labs, Paisley, and Rock. In her spare time, she enjoys being outdoors with her kids camping, swimming at the beach, and riding four wheelers.
Susan is looking forward to learning something new every day and building relationships with our clients and their pets as they come into her care while staying with us at BVC.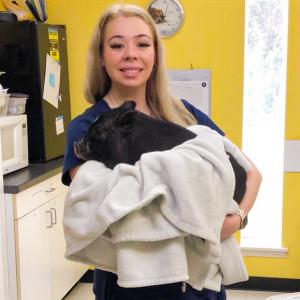 Ashleigh Fontenot

Technician
Born and raised in Greenock Scotland, Ashleigh Knox Fontenot is our resident bleeding heart. After moving to Leesville Louisiana in her late teens, she went on to pursue higher education at Delta Tech in Lake Charles Louisiana. Several degrees and certifications later she found her way into the team at Brazoria Vet Clinic.
Ashleigh cares for patients like no other. Her step-mother Irene, who was a massive advocate for wildlife and homeless felines, helped foster a deep love and sense of care for animals. Ashleigh has years of experience fostering and working as a rescue advocate. Her free time is filled to the brim with caring for everything from "bottle babies" to "fospices" and passing this love onto her son Alex who is affectionately recognized throughout the rescue community as "Wee Man".
Her favorite memory since working at BVC is the time she squared off in a duel of wills with Hotshot the mini-horse. "It was my first time seeing a mini-horse and he tried to kill me!" Ashleigh dramatically recalls. In a labored and somewhat hilarious display, she chased Hotshot around the pasture attempting to give him medication until they were both exhausted and he decided to lay down.
Kaitlyn Martin

Technician
Kaitlyn has been a veterinary technician for 4 years and joined BVC in July 2020. She is originally from Arizona where she grew up helping train horses on her family ranch.
In her free time Kaitlyn likes to practice her wood burning skills, and she still enjoys working with horses every chance she gets. She also enjoys hiking and camping.
One of her favorite experiences in the field so far, has been helping complete an echocardiogram on a Lynx! She loves working at BVC and particularly enjoys interaction with our clientele. She looks forward to assisting in the overall improvement of the life and health of our client's pets.